Award-winning PDF software
How to prepare I-9
1
Open up the form's template
Filling in I-9 online and mailing it electronically can help you save plenty of time and effort. Use our effective editor to read, fill in, and send the sample.
Now you may complete all parts of the form and sign the file digitally. Double-check if information presented is precise and error-free.
As soon as you click the DONE button, the finished form will be saved, and you could deliver it by email or print it out and send it at any convenient time.
What Is Blank Fillable I9?
Employment Eligibility Verification, better known as the I-9, is a document provided by U.S. Citizenship and Immigration Services.
A good reason for filling out this sample is to see worker's documents and finally make sure that the person has permission to work in the USA.
The list of required docs is included on the last page. If you use volunteers or contractual services, you don't need to complete it.
If the employee has problems with understanding English, it's better to use the services of a translator or preparer and indicate this in the appropriate box.
There are various versions of this sample accessible on the Internet and many of them are not valid anymore. Pay no attention to the date in the right top corner. You should find the revision date located in the bottom left-hand corner and check it.
This document was prepared by hand for many years (since its introduction in 1987) and in 2004, people could finally fill it electronically. And we have made the completion of a new I-9 form 2023 even more convenient.
Check out our ultimate online solution for editing PDFs:
Any changes are available from any device with a connection to the Internet: desktops, mobile phones or tablets.
Use the Wizard tool for additional explanations.
Enter text in fillable fields and correct them if needed.
Press Tab or Enter on your keyboard to go fill each of the needed areas.
Add additional textual content using the Text tool.
Certify the doc using the Sign tool.
Add check marks by simply clicking in special places or placing additional ones with our tools.
Who Completes the Form I-9?
The main purpose of this document is the legalness of employment verification. Every person who works in the United States must fill out this blank together with an employer. An employee fills in Section 1 on the first day of hiring and a company completes Section 2 during the first three days of the employee's work.
Template Completion Frequency
This document must be completed once when hiring US citizens or people who have permanent permission for living in the USA, excluding cases that occur after more than a year break of employment. Workers from other countries should fill in the form every time their documents expire and are renewed.
Penalties for Noncompliance
You should not underethe importance of the proper completion of this doc. The I-9 noncompliance provides penalties. A person who gives false information must pay fines or can be imprisoned. Hiring an unauthorized worker can be fined from $250 to $5,500 per employee.
How to Complete the 2023 I-9 Form Online
Click the green Get button to open it in our ultimate PDF editor.
Add information to special fillable fields.
Use the Wizard tool or Help section if you're having difficulties with completion.
Navigate pressing the Tab or Enter button, so you don't miss any field in the i-9 2020.
Check the correctness of your data.
Sign the form to certify it.
In case of any problems, contact our Customer support.
When everything is complete, click Done to download, send or create a hard copy with this template.
What people say about us
youaintno
Give it a try! pdfFiller is such a good thing which helped me a lot manage my work! the support team is great & kind and answers within 40 minutes (you need to check the inbox on the homepage, noch on your email account ) Contract is easy to change.
Alan C
Really good, quick and easy to use.
BRAWTA VACATIONS
Easy to work with Easy to work with
CLEO JACKSON JR.
user friendly
Decrease the possibility of errors preparing forms digitally
Video instructions and help with filling out and completing I-9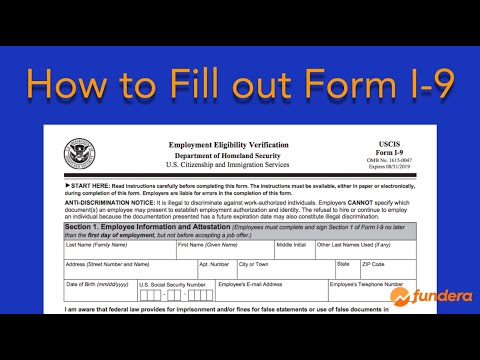 Instructions and Help about I-9
How to Fill Out Form I-9 Hi everyone, I'm Priyanka Prakash, Senior Staff Writer at Fund era, and today I'm going to walk you through how to fill out Form I-9: Employment Eligibility Verification, which can be downloaded from USCIS.gov. This form must be completed for all paid employees to verify their work eligibility and work status in the United States. Employers and employees share in the completion of the form. Let's start with section one, which should be filled out by the employee their first day on the job. Employers should pr the form to the employee to fill out Section 1, along with instructions for the forum which are available at USCIS.gov. Today, I'm going to play the part of both employee and employer. Starting as the employee, I'm going to fill out Section 1 with my name, address, and date of birth. Entering your social security number is optional unless the employer participates in E-verify. If the employer participates in E-verify, and you have a social security number, you must pr that in Section 1. If you don't have a social security number, or haven't received one yet, you should leave this field blank. Email address and phone number are optional, though the USCIS may contact you if there's a mismatch between the information provided in this form and the information that's in other government records. If you choose not to premier address or phone number, you cannot leave those fields blank. You would have to type in N/A if you don't want to pr that information.